Home
Empire State Passengers Association
High Speed Rail Empire Corridor Program Tier 1 Final Environmental Impact Statement (EIS) Released
---
---
The Berkshire Flyer
The Berkshire Flyer is Amtrak's new seasonal passenger rail service between New York City and the Berkshires.
All Aboard!
---
You may now Join the Association or Renew your membership on-line with a credit card payment!
And current members can update their Membership Account information anytime!
---
---

---
Learn about how today's Amtrak "Empire Corridor" service came about, with in 1967 the New York Central Railroad pioneering the first modern intercity passenger rail corridor service, the New York City to Buffalo "Empire Service"
Questions about passenger rail? What is High Speed Rail? How fast do Empire Corridor trains go? Who owns the tracks? What is PRIIA Section 209? What makes up railroad track? What is an Interlocking? We got answers!
Ideas big and small on who to improve and expand our state's intercity passenger rail service, including: full cafe food service on all trains; onboard enroute cleaning, baggage cars, travel packages, and more!
How passenger rail in New York State can meet the goals of the Climate Leadership and Community Protection Act for a net-zero sustainable transportation system.
How the planning and management of intercity passenger rail in New York State can be improved by adopting the best practices of other states like Virginia, while avoiding the mistakes of others, including the California High Speed Rail Authority.
The new Lakeshore Rail Alliance was formed to advocate for increased and improved train service along the current Lake Shore Limited route between New York City and Chicago.
Imagine being able to take the train from Albany to Boston as conveniently as you can now go to New York City on Amtrak. Well, it could happen if ongoing efforts by Massachusetts to connect the western half of the Bay State by rail to Boston come to fruition.
The combination of a New York-Albany infrastructure upgrade program for Amtrak and Metro-North's 'Hudson Line' and the introduction of shiny new modern Siemens Venture trainsets would make for an impressive "Higher Speed Rail" program.
Extending an existing Empire Service daily roundtrip to Schenectady and Saratoga so that residents of the northern portion of the Capital Region would have an additional daily roundtrip to the Hudson Valley and New York City, providing more options and convenience in traveling by rail.
There has not been passenger rail service to New York State's "Southern Tier" since before Amtrak's inauguration in 1971. Historically the Delaware, Lackawanna, and Western Railroad from New York City had offered a very smart intercity passenger service to Buffalo; made famous by its advertising icon Phoebe Snow.
---

---
---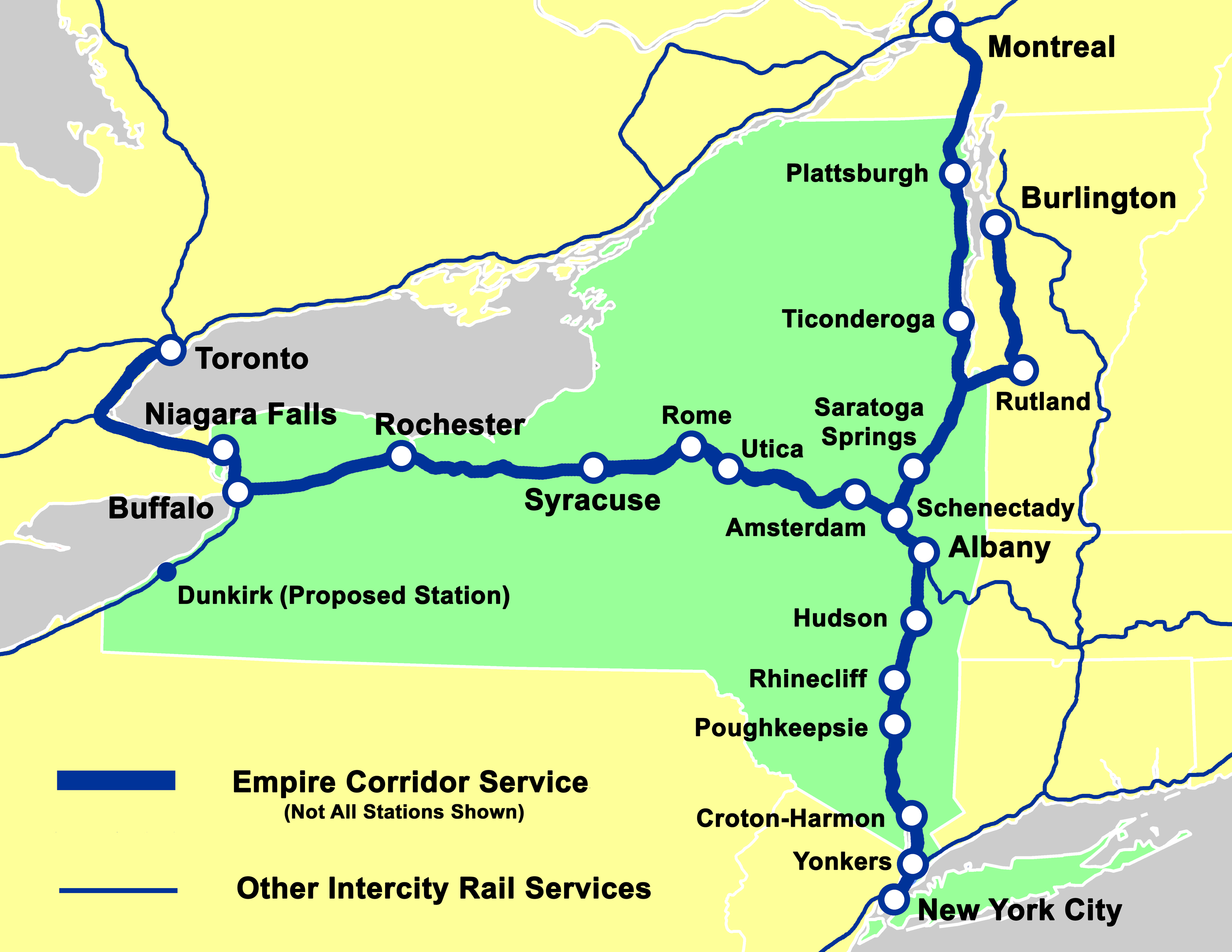 Get These Projects Funded Now!
Despite the lack of a Final Empire Corridor EIS, there are still a number of Intercity Passenger Rail Projects in the Hudson Valley and Upstate NY that could be Federally Funded by the Infrastructure Bill backed by President Joe Biden
Build Back Better

Lakeshore Rail Alliance
ESPA is very pleased to be a founding organizational member of the new Lakeshore Rail Alliance, which is advocating for increased & improved train service along the current Lake Shore Limited route between New York City & Chicago. All Aboard Erie (PA) is the host organization for this new collaboration of seven passenger rail advocacy groups along the route. At a Press Event held on July 27th, 2021 in Erie, PA, the Alliance was formally announced, along with an introduction of it's new Erie-based Executive Director Michael Fuhrman. ESPA's Bruce Becker and Roy Davis represented the Association at the event.
---
---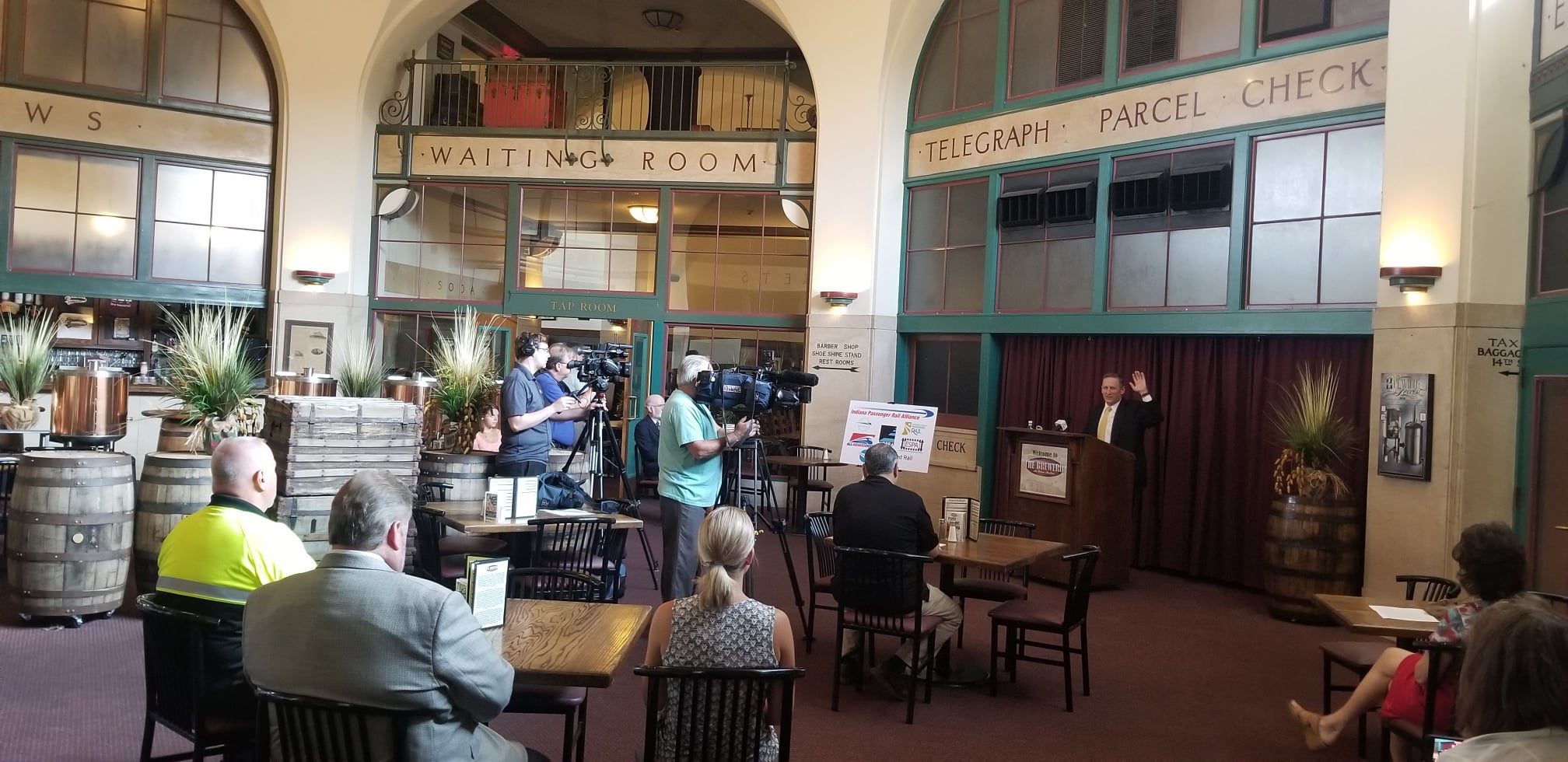 LAKESHORE RAIL ALLIANCE WEBSITE
It's time for more trains from Chicago to New York City
Lake Shore Corridor

PHOTO CREDIT: NYS Governor's Office
East Side Access is Finished!
LIRR Service to Grand Central Madison Inaugurated in Jan 2023
East Side Access, the public works project to extend the Long Island Rail Road (LIRR) two miles from its Main Line in Queens to the new Grand Central Madison LIRR station under Grand Central Terminal on Manhattan's East Side was completed and open for public service on January 25, 2023 with limited service to Jamaica station in Queens. The project was originally scheduled to open in 2009 and went billions over budget, making it one of the world's most expensive underground rail-construction projects. The new LIRR terminal contains eight tracks and four platforms in a two-level station 100 feet below street level and was built in conjunction with several other LIRR expansion projects, including an additional third track along parts of the LIRR Main Line. The project was intended to remove or reduce the need for subway transfers from Penn Station for the substantial number of Long Island riders with jobs on the east side of Manhattan.
---
---
ABOVE RIGHT: Governor Kathy Hochul and MTA Chair and CEO Janno Lieber after riding the inaugural Long Island Rail Road train to Grand Central Madison, which arrived at the terminal platform at 11:07 a.m. LEFT: Happy LIRR Conductor on first public service train into Grand Central Madison. PHOTO CREDIT: NYS Governor's Office
---

Grand Opening of Moynihan Train Hall in New York City
With a grand opening on Dec 31st, 2020 led by Governor Andrew M. Cuomo, the 255,000-square-foot Moynihan Train Hall was opened for passengers in the westward expansion of New York City's Pennsylvania Station into the 100-year-old James A. Farley Building. The East End Gateway to Penn Station at 33rd Street and 7th Avenue also opened on New Year's Eve. The new Moynihan Train Hall is named for former U.S. Senator Daniel Patrick Moynihan, who in the 1990s proposed and advocated for the surplus space in the historic Farley Post Office to expand the existing railroad station underneath Madison Square Garden.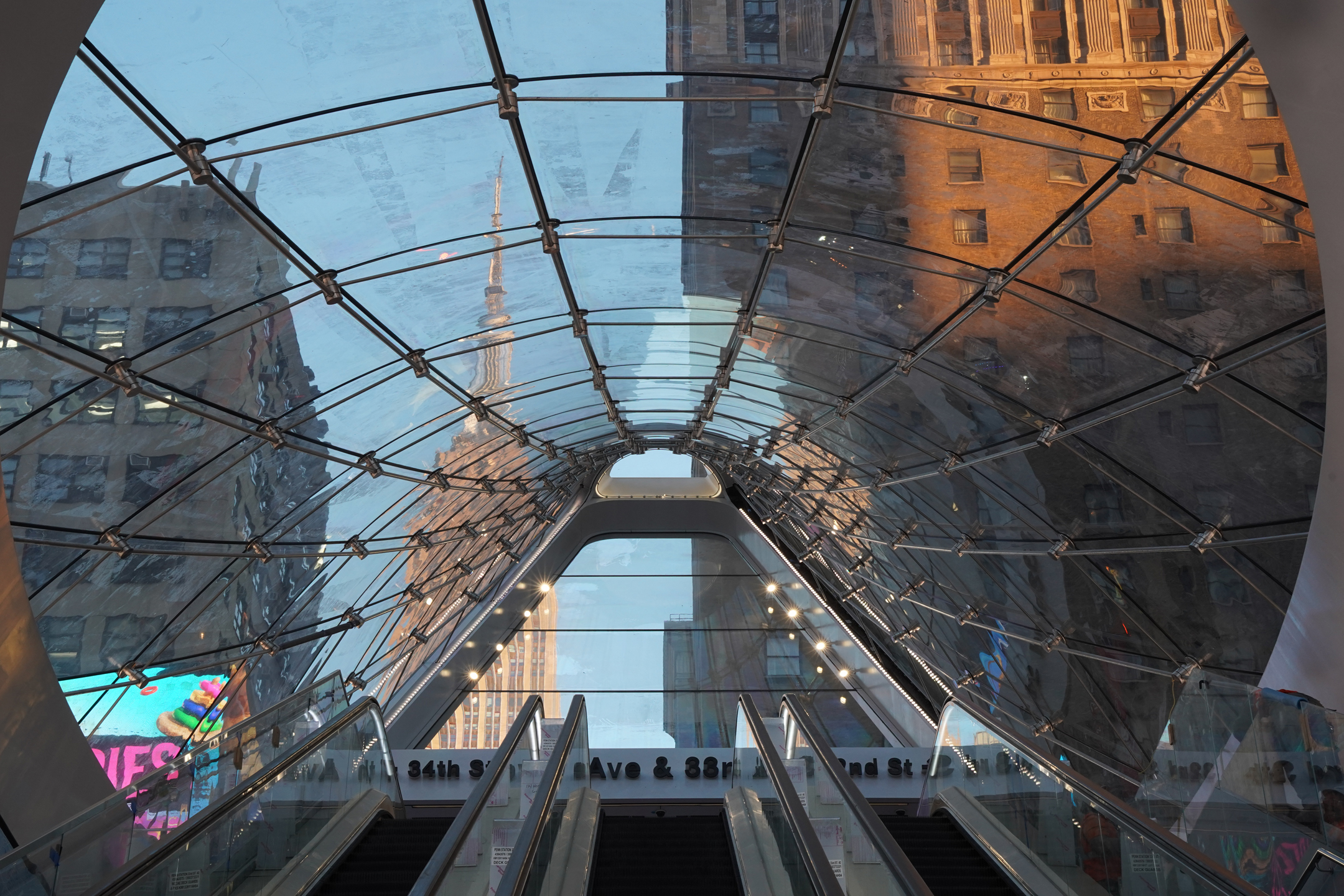 ---

NEW BUFFALO EXCHANGE STATION IN THE HEART OF DOWNTOWN
Build on the historic site of the previous Exchange Street stations, the new station was constructed on time and on budget, being twice the size of the city's previous rail station. Providing travelers with a convenient and intermodal gateway to Buffalo's bustling downtown, the new station has easy connections to local bus and light rail service, with several hotels and attractions a short walk away. A tremendous improvement over the previous 1952-era facility, the rebuild and expanded station is a great addition to the rapidly-redeveloping and increasingly vibrant downtown Buffalo.
---
New Saratoga-Schenectady Service
ESPA also joins the Saratoga Chamber and the Schenectady business community in asking New York State DOT to work with Amtrak to extend an existing Empire Service daily roundtrip to Schenectady and Saratoga, providing a early morning train down to New York City and a early evening train back up.
More Service Now


---
Visit The New ESPA YouTube Channel!
Videos Of The Speakers & Presentations At The 2022 Annual Meeting Are Now Available.
ESPA YouTube
Follow The Empire State Passengers Association On Facebook!
Your Best Source Of Breaking Rail News & Commentary
Follow Us!