December 16, 2022
Amtrak Unveils New Trainsets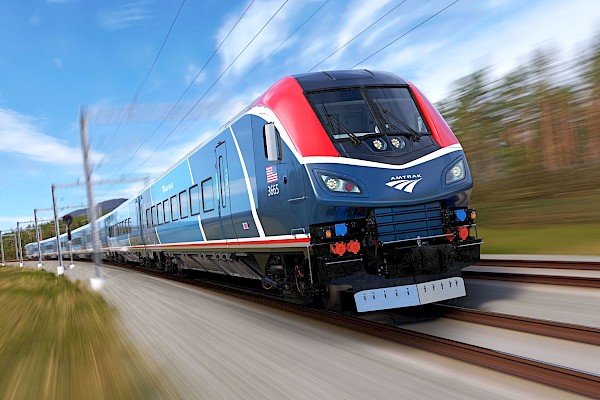 Amtrak unveiled the next generation 'Airo' trainsets in a press event on Thursday, December 15, at New York's Moynihan Train Hall.
At the event Amtrak President Roger Harris noted "As we invest in the future, Amtrak is leading the way with a new era of rail. Our new trains will transform the Amtrak experience with significant environmental benefits, a progressive design and world-class amenities."
The new trains will elevate the journey with a focus on comfort and efficiency. Amtrak Airo will provide even more advantages to traveling by rail, including:
Elevated Experience: With its modern, spacious interior and panoramic windows, customers have an improved view of the best sights in the country while connecting to the passing landscape.
A Greener Impact: The new trains are more fuel efficient and produce 90% less particulate emissions in diesel operations.
Reduced Travel Times: The new trains will operate at speeds up to 125 mph and offer near seamless transition between power sources where time-consuming locomotive changes were previously required.
Redesigned Café Car: More contemporary food service provides self-service options.
Wayfinding: Signage creates a cleaner, more evident and accessible way to identify and differentiate cabins – both on the exterior and interior through a color-coded system.
Spacious Seating:Each spacious seat prioritizes ergonomics, offers enhanced comfort with plenty of legroom, bigger and sturdier tray tables, moveable headrests and a dedicated cup and seatback tablet-holder.
Business Class: Choice of double and single seats offer customers greater flexibility.
Amenities: Features enhanced lighting, improved technology with digital customer information systems and touchless restroom controls, dedicated individual outlets, USB ports and onboard Wi-Fi.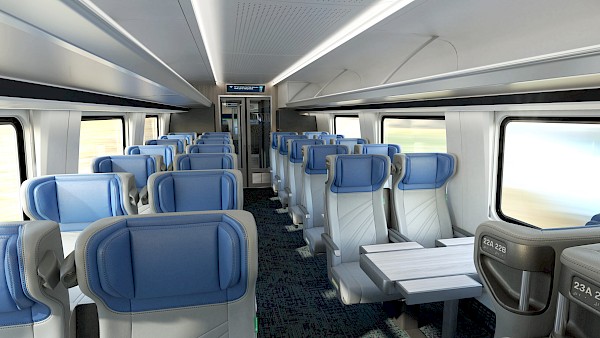 Coach Class Seating
The new trainsets are in production at Siemens Mobility's plant in Sacramento, CA. The first cars are expected in 2025, with revenue service to start in 2026 (on the Pacific Northwest Cascades Service).
The trainsets will fully replace the nearly 50-year-old Amfleet I cars currently used around the country and on the Empire Corridor. When introduced into New York State service in the 2029 - 2030 timeframe, the trainsets will cover all Empire Corridor trains, the Maple Leaf and the Adirondack.
The current order calls for 17 unique dual mode diesel-battery units for use in & out of Penn Station (and potentially Grand Central Terminal). The trainsets are expected to consist of one locomotive and six cars, which will include coach class, business class and a fully re-designed Cafe car. The trainsets will be bi-directional with an cab car on the end opposite the locomotive.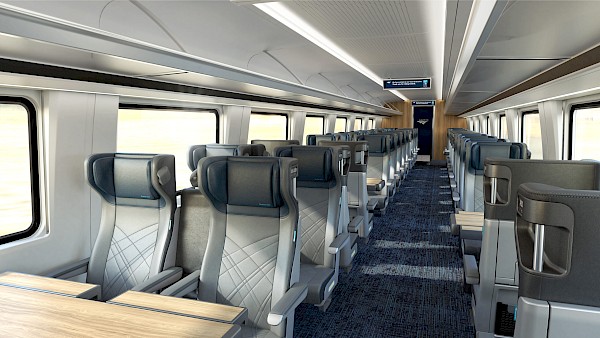 Business Class Seating
In the event Press Release, the following New York State dignitaries were quoted:
Senator Chuck Schumer
"I fought to include over $21 billion for Amtrak in the Infrastructure Investment and Jobs Act, and I secured over $2.3 billion for Amtrak in FY22 appropriations, so that initiatives that benefit passengers like these new trains and improved cabins could go forward. I am thrilled to see Amtrak stepping up its game for customers with the new Amtrak Airo trains, which will benefit customers throughout the country, including on more than half a dozen New York lines."
Rep. Paul Tonko (D-NY-20)
"For decades, we have put investments in critical infrastructure on the backburner, leaving communities unequipped to deal with crumbling roads and bridges and insufficient public transit. Thanks to the advancement of our bipartisan Infrastructure Investment and Jobs Act, these needs are at long last being addressed. I'm delighted by this investment that will ensure Amtrak trains meet passenger needs, whether one is traveling to work, home to see family and loved ones, or to a new destination, all while reducing air pollution."
Marie Therese Dominguez, New York State Department of Transportation Commissioner
"If anybody still wonders if the best days of passenger rail are ahead of us, they now have the visual proof and can rest assured. The best is yet to come, thanks to a focus on enhancing passenger amenities and employing greener technologies. Here in New York State, we are already making historic investments to improve connectivity, service reliability and safety. We are grateful for the partnership of Amtrak Chair Anthony Coscia and CEO Stephen Gardner, and we look forward to working with them and our federal partners in Washington to bring to life these immaculate trainsets that will define the passenger rail experience of the twenty-first century."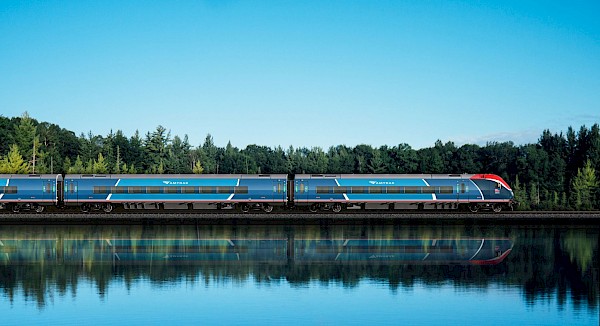 Video of the new Trainsets
Video of the launch Press Event