January 27, 2023
LIRR Service to Grand Central Madison Inaugurated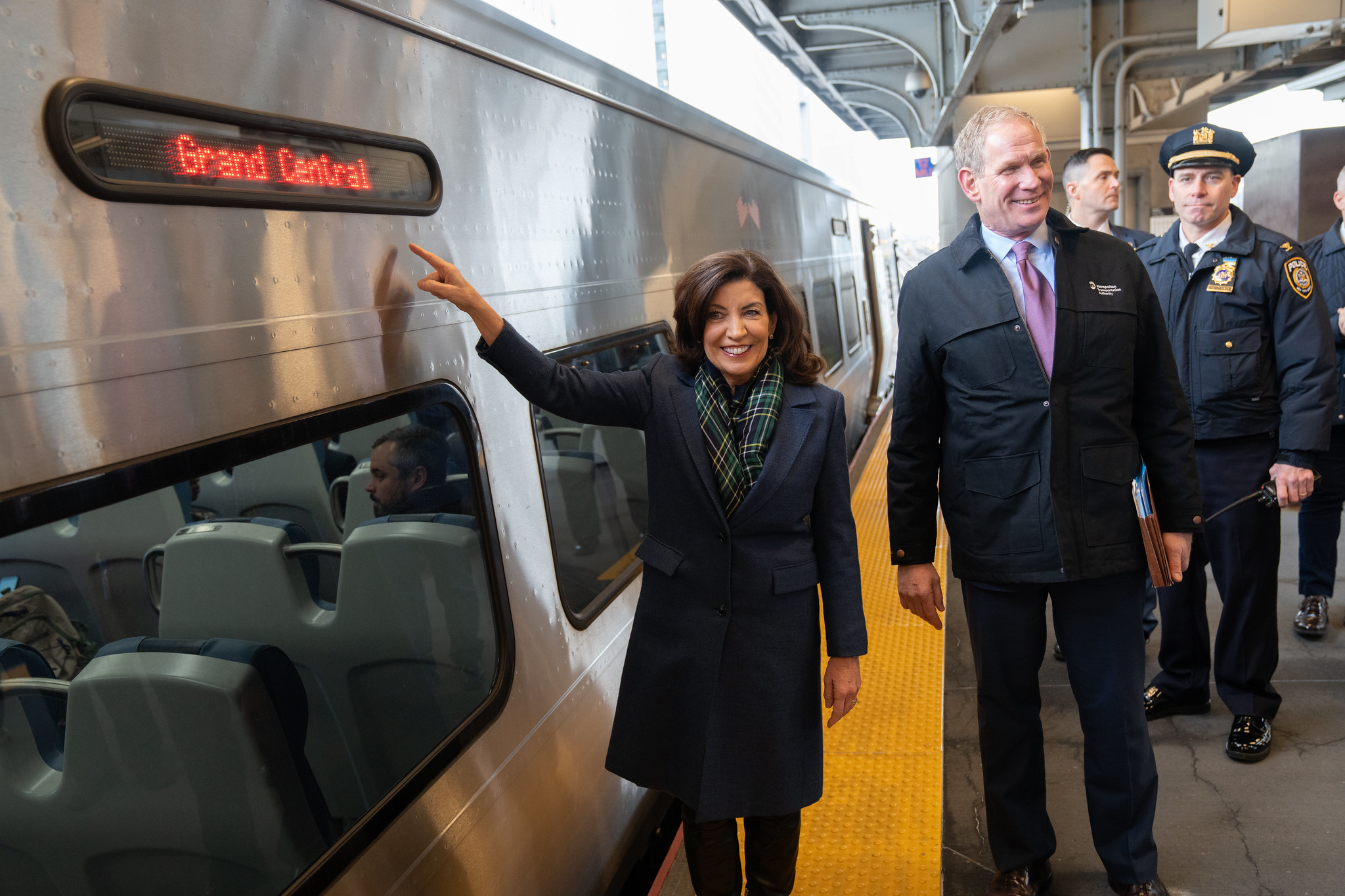 PHOTO CREDIT: NYS Governor's Office
Governor Hochul Rides Inaugural LIRR Train to Grand Central Madison
Governor Kathy Hochul and MTA Chair and CEO Janno Lieber today rode the inaugural Long Island Rail Road train to Grand Central Madison, which arrived at the terminal platform at 11:07 a.m. The train was the first of Grand Central Direct trains now operating between Jamaica and Grand Central Madison between 6:15 a.m. and 8:00 p.m. on weekdays and between 7:00 a.m. and 11:00 p.m. on weekends. Trains are running every 30 minutes in both directions during weekday midday periods as well as on weekends, and once per hour during peak periods - arriving in Grand Central between 6:30 a.m. and 10:00 a.m. and departing between 4:30 p.m. and 7:30 p.m.
FROM PRESS RELEASE
---
---

PHOTO CREDIT: Marc A. Hermann for the MTA
LIRR service to Grand Central Madison
The new station, located below Grand Central Terminal, is now open. Try our shuttle service between Jamaica and Manhattan and explore the new terminal. A seamless Long Island Rail Road trip to Manhattan's East Side is now a reality: Grand Central Madison is now open, bringing LIRR to Grand Central for the first time. Service to the station will begin with Grand Central Direct shuttle service between Jamaica and Grand Central Madison. This limited shuttle service is in addition to the LIRR schedule as we prepare for the full service launch. New LIRR schedules will be available in the coming weeks. The new LIRR service to Manhattan's east side is the most transformative change to Long Island Rail Road service in over a century. In addition to opening a monumental new station below the historic Grand Central Terminal, there will be new schedules on every branch of the LIRR. There will be more trains running during peak hours and better reverse commuting options to Long Island. Two new tunnels between Manhattan and Queens will increase train capacity to and from New York City by 50% and improve reliability.
FROM PRESS RELEASE
---
---

IMAGE CREDIT: MTA
East Side Access Project
East Side Access (ESA) was a public works project in New York City that extended the Long Island Rail Road (LIRR) two miles from its Main Line in Queens to a new station under Grand Central Terminal on Manhattan's East Side. The Metropolitan Transportation Authority (MTA) project was originally scheduled to open in 2009. The MTA opened the new station and tunnels, with limited service to Jamaica station in Queens, on January 25, 2023. The estimated cost of the project rose nearly threefold from $3.5 billion to $11.1 billion as of April 2018, making it one of the world's most expensive underground rail-construction projects.
The new LIRR terminal contains eight tracks and four platforms in a two-level station 100 feet (30.5 m) below street level. It was built in conjunction with several other LIRR expansion projects, including an additional track along parts of the Main Line. The project was intended to remove or reduce the need for subway transfers for the large number of riders with jobs on the east side of Manhattan. Previously, the only Manhattan stop for trains from Long Island was Penn Station, on the west side of the island.
East Side Access was based on transit plans from the 1950s, though an LIRR terminal on Manhattan's East Side was first proposed in 1963. The planned LIRR line was included in the 1968 Program for Action of transit improvements in the New York City area. Lack of funds prevented the construction of any part of the connection other than the 63rd Street Tunnel under the East River. Plans for the LIRR connection were revived in the late 1990s. The project received federal funding in 2006, and construction began the following year. The tunnels on the Manhattan side were dug from 2007 to 2011, and the connecting tunnels on the Queens side were completed in 2012. Afterward, work began on other facilities related to the line, such as new platforms at Grand Central, ventilation and ancillary buildings, communication, and utility systems, and supporting rail infrastructure in Queens. The project's completion was delayed several times during construction.
FROM WIKIPEDIA
---
---

PHOTO CREDIT: Steve Strauss
Photos of Inaugural Service by Steve Strauss
Some photos from today's Inaugural ride from Jamaica to Grand Central Madison. The Governor rode in on a 12-car train and held a press conference 8 to 10 stories below ground in the new station. Lots of train fans, MTA-family employees, retirees of the MTA and press. At least two ESPA members and one promise-to-join member rode on the first train.
Steve Strauss
---